We are now off of the Thames and on the Grand Union canal, though strictly at this point it's the river Brent. We left our mooring at about 11:00 for a slow chug down to Teddington lock to await the tide. The usual advice for narrowboats making the Teddington to Brentford passage is to go at high water. This means that Richmond half tide lock can be bypassed and that there is sufficient water to get into Thames locks at Brentford. Soon after setting off we passed Hampton Court Palace where the annual flower show was on. There were lots of people being ferried across the river to the show.
We arrived at Teddington at about twelve thirty and moored up to await the tide. We got chatting to other narrowboaters also making the journey and decided to follow down another boat; they had made the trip before and knew where to turn off the Thames. It's not easy to see and apparently some people miss it and carry on staight past.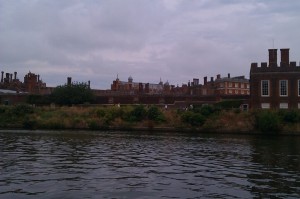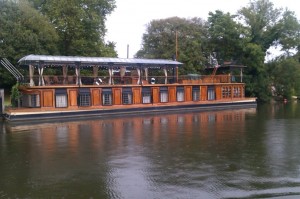 By the time 3:30 came there were 5 narrowboats in the lock to make the trip. One zoomed off ahead and the other four went in convoy with us second.
We enjoyed the tidal trip, no where near as tricky as our previous tidal forrays on the Trent and Ouse. Coming through Richmond was very attractive with lots of people on the riverside enjoying the summer sun.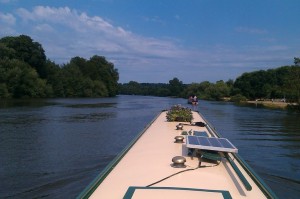 The turning onto the GU came on us suddenly and we were locked through the double locks all four at once.  Next came the single (double width) 'gauging' lock, we started looking for an overnight mooring straight away. First we moored up between a railway bridge and a bridge carring the A4 Westway. We had our supper (crispy duck pancakes & chicken chow mien) and then went for a walk. On the walk we found a much quieter mooring a few hundred yards  further on, so decided to move.