15 miles and 10 locks.
The boat moored behind us last night went past at about 6:30, we had breakfast and then started out. We did the lock at the bottom of the Hanwell flight on our own. We could see the other boat ahead in the next lock. He was single handed so waited for us and we shared the rest of the flight together. It's a small world, John the boater, lives in a flat overlooking Gloucester docks and his son lives next door to "The Salmon" at Wandswell, where we were lunching with some friends only a couple of weeks ago.
The trip here has been enlightening. London by canal is actually quite green. At times you wouldn't know that you were in a city at all. We did pass though one area where there was quite a lot of litter and rubbish, both in the water and on the towpath, but mostly it's been clean. We have suffered from collecting stuff around the prop, mostly just weed, but I did need to go down the hatch once to clear some plastic bags etc.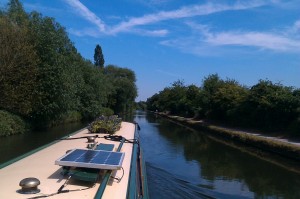 Earlier John had told us about some moorings that he thought might be useful to us. The first of these was at Kensal Green opposite the cemetary. There was space here so we opted to take it as space is very limited. There seems to be a well established boater's community here. Strictly the moorings are max 14 days, but it looks like some have been here much longer.
There is a very big Sainsbury's just along the towpath so we paid a visit to top up supplies. The wide choice of goods of offer reflected the diverse ethnic and cultural mix of the area. There were all sorts of  fruit & veg that we had never seen before.
After our meal we got the bikes out and went for a ride around the area. The drivers in London aren't as bike freindly as those in Oxford!!