The rain had stopped for part of the night, but then started again heavily around 6:00. I was a little conerned that the river levels would come up too much and we wouldnt be able to get back. This part of the severn often becomes un-navigable after several days of heavy rain around the headwaters in Wales. I logged on to Metcheck and it didnt look good. They were forcasting another day of heavy rain and giving out a "severe weather warning" with "risks of localised flooding in the Midlands & Wales". We decided that the best thing was to leave straight away and get off of the river as soon as possible.
Heddi and I donned the wet weather gear and started off up river. Jan & Mike stayed in bed! The flow on the river was stronger than usual and the level had come up about a foot and was still rising. But we made good progress and got to Stourport in three hours. We were kept supplied with cups of tea, but this time no sausage sandwiches.
We were going to stop on the pontoons for lunch and wait for the rain to stop, but there was no room. So we started up the staircases. The first one went OK. Heddi & Mike were working the second one and had already emptied the bottom chamber and I had brought the boat in. When they went up to the top chamber there was a boat waiting to come in. The woman who was crewing had opened the gate paddle (even though the lock was already full) and then berated Heddi & Mike for trying to steal 'her' lock. Luckily a BW guy was on hand and quickly put her in her place and told her to let us through. She obviously thought that it was a ordinary lock, which demonstrates either her incompetance or stupidity (probably both). Up through York St lock and on to the safety of the canal for bacon & egg sandwiches.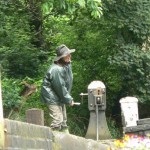 Back to the home mooring for strawberries, clotted cream & macaroons (seems to be a lot of eating this trip!) then packed up and headed home.