We woke up early, around fiveish. It had been raining most of the night and was getting harder. We decided to make an early start and be at Lincomb lock at 8:00 when it opened. Anyone in Stourport that morning could have witnessed a succession of four people, only partially clad in an assortment of dressing gowns, pyjamas and towels, dashing to and from Just Heaven and the shower block at 6:00 in the morning!
Down through the staircase locks and out onto the river. The level was more or less normal and well in the "green". It was still pouring with rain and fairly chilly. We arrived at Lincomb lock just before 8:00 but the lockie let us through. It took us about two and a half hours to get to Worcester, during which time it didnt stop raining. The cold and wet was only relieved by a succession of cups of tea, and at one point some sausage sandwiches. Have you ever tried eating a soggy sausage sandwich, clad head to toe in wet weather gear, with one freezing cold hand (the other being used to steer the boat) before the plate fills up with water?
When we arrived we moored up just upstream of the boat clubs as this is the nearest mooring to the race course. I lit the fire and put the central heating on so that we could warm up and dry out our clothes. Teresa & Lindsay arrived, but we abandoned the pre-race Pimms in favour of a cup of tea!
We went across to the race course and met the rest of the group that had driven up from Tytherington. By now the weather had improved a little, now just drizzly rain. The afternoon started with us all drinking a toast to Kay and Andy's recently arrived twin grand daughters. Then Andy tried to educate us in the complexities of betting and race horse form, but in general the bets were placed according to the age old formula of how nice the name sounds, or the pretty colour of the jockey's hat.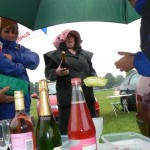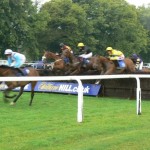 The picnic was taken huddled under umberellas, we were supposed to have had a gazebo, but didn't. Can you remember why that was Lins? The second part of the picnic (a cream tea with scones, clotted cream etc) was had onboard Just Heaven in the warm. What a difference the weather makes. On a lovely warm summer's day it would have been great sipping Pimms or champagne and watching the horses. In the cold and wet it was rather different. The ladies had all wanted to wear their posh frocks and hats, but in the end most settled for raincoats and wellie boots.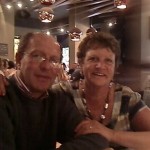 In the evening six of us went for a meal at Pizza Express, then four stayed on board and Teresa & Lindsay drove home.
Weatherwise the evening was the best part of the day.
photos © Mike Tyres