Arrived in Kidderminster at about 13:30 with friends Jan & Mike after being stuck in traffic on the A449 for quite a while. The plan for the weekend was to go down to Worcester for Ladies Day at the races. We were due to meet various other friends there who would be coming by car.
A fairly uneventful cruise down to Stourport. We had thought of mooring overnight on the river, but the traffic had made us late and anyway there wasnt room on the pontoons, so we stayed in the basin by the services.
We had a wonderful Lamb casserole that Mike had made earlier and went to bed.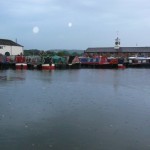 Photo © Mike Tyres