The day started off bright but cold, we decided to go for a walk across the fields and through the woods to Cookley, then back along the towpath.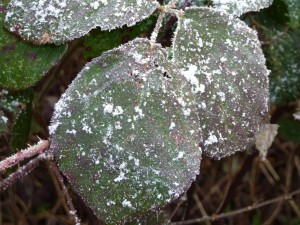 It was a really lovely morning with all the foliage covered in frost. A short stop at the Tesco Express in Cookley, then back along the towpath. A we neared Debdale lock it started to snow. It was odd walking in snow as they were very large flakes floating down slowly & silently.
In the afternoon we turned the boat at Lea Lane winding hole and moved down to just below Wolverley Court Lock.
For some time we have notice the water pump running for a second or so every now and then. This usually indicates a leak, but I hadn't been able to find one. I was looking in the cupboard under the back stairs and notice a wet patch at the bottom of the calorifier. I traced it to a leak at the top where the hot water take off is.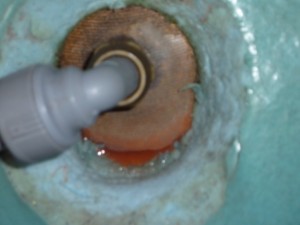 At first I assumed that it was the joint leaking, so I took it off cleaned it all up and put it back – no change. Then by watching very carefully I could see that the water was leaking up. I concluded that the leak was in the calorifier itself and the water was coming up through capilliary action via the foam insulation. Further investigations will be needed !