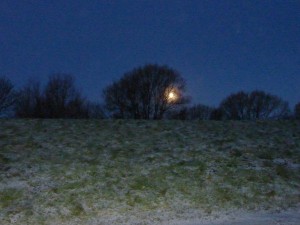 Cold overnight and more snow meant we awoke to a frozen canal. We debated what to do, either try to get back to the mooring in the snow or leave the boat where it was and come back next weekend to retrieve it.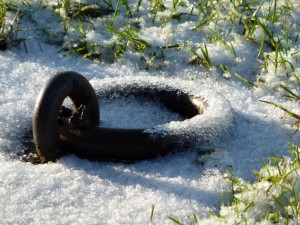 We decided to try to get back to the mooring. The ice didn't look too bad and the weather forecast was for the temperature to rise. Well after about a mile, we got completely stuck on the outskirts of Kidderminster near the small aqueduct. The ice was simply too thick to get through. We walked along the towpath into Kidderminster to assess the ice situation and decided that we weren't going to be able to get back to the mooring.
Using ropes & poles we managed to turn around and head back up through the channel we had cut in the ice, back to up Wolverley. The plan was then to walk back, get the car, drive to Wolverley, and then leave the next morning and come back for JH next week.
As we were just abut to set out on our walk a BW push tug came down and headed off towards Kidderminster. We followed on foot. It followed our track though the ice to the spot where we had turned, but then carried on smashing through the ice. If we had only known, we could have followed with JH. The tug skipper tied up right next to our mooring. We had a chat and he said even he had problems getting through and those little tugs are really just floating engines and are really powerful, so we wouldn't have been able to make it.
Drove back to Wolverley and stayed there overnight.