Now moored up on the Grand Union at Black Buoy Cruising Club( www.blackbuoy.org.uk). The very friendly folk here have agreed to look after JH for us for a week. We heard this morning that our mooring at Cropredy won't now be available until August 31st. So we have had to change our plans a little. We are leaving the boat here for a week, then making our way to Cropredy and leaving it outside the marina for a week before setting off on our main summer cruise.
The weather forecast for today was for rain from 10:00, but in fact it's been sunny and warm until about 20mins ago ((5:00pm). We set off at about 7:30 and have done 10 miles and 19 locks in 6.5 hours.
Just like yesterday there were very few boats about, we only saw 4 moving all day until we arrived here, since then there has been a steady procession past us!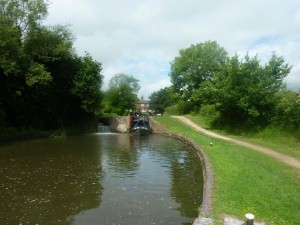 The Lapworth flight is set in very pleasant countryside, the locks are quite hard work, but closely spaced, so we were working one ahead all the time. At the junction we turned left to head north, back in the direction of Birmingham, but only for a few miles to the club's moorings.
Tomorrow we have a complicated journey to make involving 3 buses and a train to get back to Kinver to pick up the car.
Twitter @nbjustheaven