We dropped down three locks then into the "long pound". This is about 15 miles long and was deliberately engineered by the canal's designer John Rennie to provide a reservoir for the Caen Hill flight at Devizes. The canal winds it's way through the lovely Vale of Pewsey. We managed to catch a glimpse of the famous White Horse.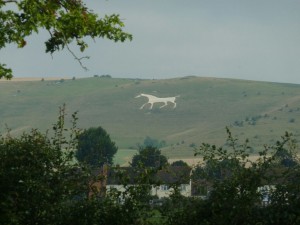 The canal here is supposed to be a wide one i.e. at least 14ft , but in many places the reeds encroach so much that ony a narrow clear space is available.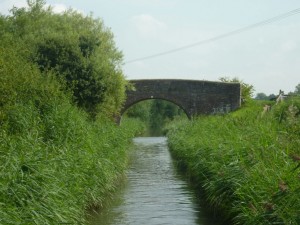 We arrived here just after one o'clock. At various points along the way people called out "You know the Caen Hill flight is closed don't you?", "Yes" was our reply. We had already heard about the hire boat that had lifted one of the top gates out of it's seatings. Usually when this happens it's about a 3 or 4 hour job for the C&RT guys, so we didn't expect too much delay. But this time it seems it was going to take longer.
As soon as we arrived here we were hearing rumours that it would be at least the weekend before it could be fixed as a floating crane had to be brought from Newbury. We found a mooring just down from Devizes Wharf and wandered into town where there was some sort of carnival festivities going on.
We have been told that it could be Monday before the locks are open. That will put our schedule completely out of kilter and mean that we will have to re-arrange our various rendezvous.