Now moored up just outside Reading Jail after a varied and interesting day. We set off just before 8:00 under grey skies and drizzly rain, but it cheered up and the sun eventually came out. We shared the first three locks with NB Sulis. After chatting with James & Albert on Sulis we discovered that they too are taking up a new mooring in Cropredy Marina.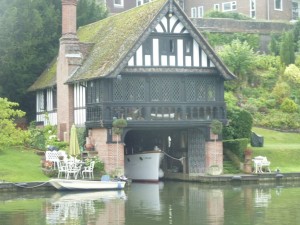 Some boat houses on the Thames are bigger than other people's houses!
We had arranged to rendezvous with grandson Josh and his girlfriend Nicky who are at Reading Festival. As we approached the festival site the riverside path was thronging with young festival goers. I thought that we would have a problem finding them, but we spotted them quite quickly.
.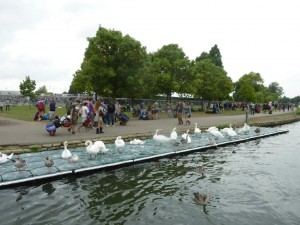 Festival goers
After a short stop for lunch we took them down river for a while then back up and onto the Kennet & Avon canal. We found a mooring on the Reading Jail loop where we had a barbecue. Back down Blakes lock and out to drop them off below Caversham lock on the Thames to walk back to their campsite. We then went back to do Blakes lock for the third time and moor up again on the jail loop.