Autumn is coming. The mornings are cold and misty. The evenings are chilly and it's dark by eight. Some of the trees are turning colour and the vegetation is looking tired. The waterside hedgerows are laden down with fruit, blackberries, elderberries, hip, haws and crab apples.
Thirteen miles and fourteen locks today.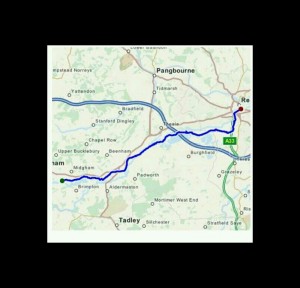 We are moored in a backwater of the river Kennet known as the Reading Jail loop as it passes the jail. The one where Oscar Wilde was incarerated in when he wrote the famous ballad.
Whilst I re-packed the stern gland with grease Heddi went to investigate Reading's 'Oracle Centre'. I joined her later and found her in the shopping complex which is just like every other Ive ever seen. When you are inside these places they are all the same, the same shops, the same decor, etc. But they appear to be very popular. I was struck by the contrast with where we had been for the last week or so. The K&A canal is predominantly rural, we didn't meet many people, but those we did were out for a gentle stroll and were happy to exchange pleasantries. Here in the urban world there were lots of people scurrying hither and thither but not talking to each other.
We went back into the Oracle for the evening and had meal at Cafe Rouge on Tesco vouchers!