Day 1
Raining this morning. We have had over a fortnight of almost unbroken good weather, but it seems to be on the change. We needed to be around at 12:00 as Grace, the boat on 'our' mooring would be leaving then and we had to move into that spot. The rain stopped around 10:30 so we went for a stroll down the Paddington arm. Surprisingly there were quite a few good moorings available down there. We did a bit of shopping in the Tesco Express and went out onto Edgeware Rd to the Maplins to buy a charger lead for the camera (we had left it at home). As they were leaving we chatted to the people on Grace about their trip out from Limehouse up the Thames. They weren't daunted as they had exerience of the tidal Trent.
After lunch we walked to Kensington Gardens and spent a very pleasant afternoon just wandering about. After a cup of tea in the Lido Cafe Heddi paddled in the Princess Diana Memorial Fountain.
Our evening meal was taken at the Warwick Castle, a real pub with real beer and real music (Eric Clapton, 10cc, Van Morrison, Stones, Bob Dylan…….).
Day 2.
We had decided to spend the morning at the Natural History museum, followed by some window shopping in Knightsbridge. Just as we were leaving we were told of the forthcoming Tube strike tomorrow. This came as a bit of a blow as we have pre-booked the London Eye for 10:00 in the morning. How are we going to get there?
We haven't travelled on the Tube for over 10 years, so all this Oyster card stuff was new to us. But we are quick learners, by the end of the day we were helping another lady who was having problems topping up her card!
The trip to the Natural History museum was slightly spoilt by all the school parties there. After about an hour we had had enough of running, shouting, jumping children. The Science Museum was, to start with, much quieter, but eventually this also got too much so we left. We grabbed a sandwich for lunch and ate them under a tree sheltering from a quick storm. Then it was off into Harrods to be amazed at what some people will pay for things! I spent quite a bit of the time just looking at the building. We liked the Egyptian staircase.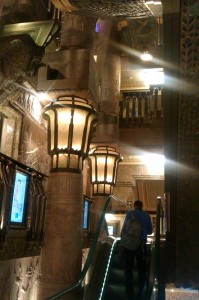 Our evening meal was taken at the Lebanese Restaurant nearby. We had their 'Gourmet Massis' to share.  It was an excellent assortment of dishes with bread, pickles etc.
Day 3
After studying the route we decided that it would be reasonably easy to cycle to the Eye, so we set off at 8:30 to give ourselves plenty of time. There were lots of other cyclists about, I dont know if this was more that usual due to the strike or not. Our route took us through Hyde Park to Hyde park corner roundabout, then down Constitution Hill to outside Buckingham Palace. From here we took Birdcage walk to Parliament Sq, then over Westminster bridge and we were there!
After a short while in the queue we were up and away.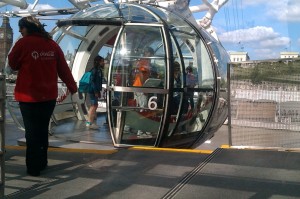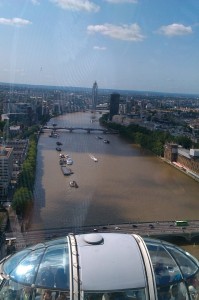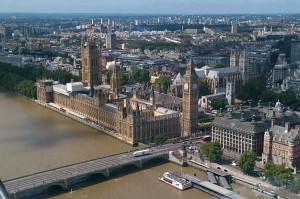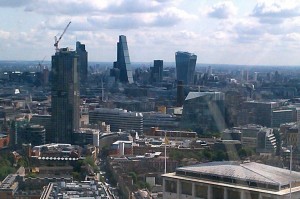 After our trip we crossed the Jubilee footbridge and found somewhere to secure the bikes. A wander around Trafalgar Sq, the Strand and the Embankment with lunch in Victoria gardens followed.
We decided to cycle back a different route via Trafalgar Sq and the Mall back to Buck House. I did my good deed for the day by warning some tourist ladies that they were trying to enter the Gents toilets. I tried my best French, but they turned out to be Italian (I think). They got the message anyway!
The taxis going up the Mall weren't very bike friendly, so to recover from the ordeal we chilled out for a while on the grass in Hyde Park.
Since we have been here I have been trying to contact the fuel boat 'Ash' which is mooreed nearby. He hadn't responded to my text messages. Yesterday we saw another fuel boat 'Baron'. He said that he would top us up with diesel today. As we came back on our bikes I saw him again and he said he would be along in 30mins. He duly arrived and we had 91 litres for £80 cash, no mention of tax or % declarations!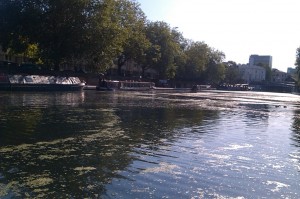 Our evening meal was Southern fried chicken and a pint of Doom Bar at The Bridge House.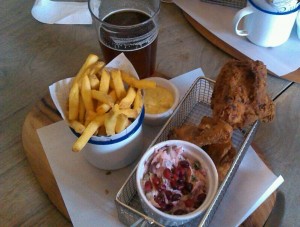 We have really enjoyed our time in London, but after nearly a week of not really boating we are keen to get going. We leave on the next phase of the journey in the morning.