Just a quiet tootle down the Thames today. We didnt really need to but we made our usual  start at about 7:30. Out through Isis lock to the Thames. At that hour the lock keepers aren't on duty, so it was Abingdon lock before we had to hand over cash for our licence.
We are meeting our daughter's in-laws here for a meal this evening. So the afternoon has been spent doing a bit of shopping and just chilling out.
The moorings here are excellent, provided by the town council.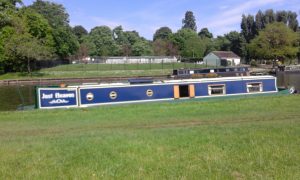 During the afternoon, whilst I was making the lasagne, Heddi went for a walk. Just as she came back my phone rang. It was Sue,our friend from home.
Sue: "Where are you?"
Me: "In Abingdon"
Sue: "I think I've just seen Heddi walking"
Me: "Yes, she's just been for a walk. Are you in Abingdon then?"
Sue: "Yes, I'm working here for a few days"
She said that she finished at six, but had to be back for dinner at seven. Heddi invited her over for a G&T at 6.
So we sat out in lovely sunshine enjoying an unexpected drink with Sue until Anne and Richard arrived for supper.