Hot, hot, hot today. It's still 26 C at five o'clock!
Shortly after setting off this morning we caught up with narrowboat 'Amy' at Woolhampton swing bridge. They let us through and we then spent the rest of the day with them sharing the next ten locks, and several swing bridges. We worked together well as a team. The couple on board, Graham and Jan have a similar boating background to us, except that they are now liveaboards cruising for the summer and spending the winter in a marina near Foxton.
We both moored up just past the West Mills swing bridge on the outskirts of Newbury. We popped into town to have a mooch round the shops and visit Sainburys to top up the fridge and grocery cupboard.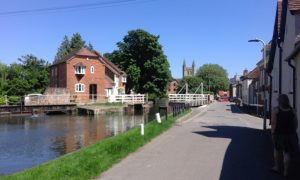 We were sat at the front of the boat when we were asked if we minded someone checking under our boat for freshwater shrimps! A lady who was doing some scientific research then used a net to search under our boat. She didnt find any at the front, but at the back netted about 5 little tiny creatures. These she put into test tubes to take back anf identify which species they were!