Only 3.9 mile but 28 locks today.
The C&RT guys opened the locks up at 11:00 and with Larry and Fiona on Amelie May we were the first boats down the flight. We worked though as an efficient team and completed the 23 locks on just over three hours. We had to fill almost every one in front of us as the whole flight had been left empty. Simon and Karen on NB "The Bath Tub" were following close behind.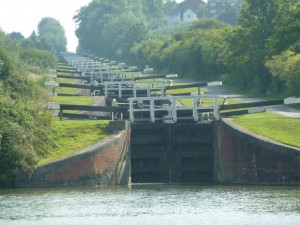 We felt a real sense of achievement on reaching the bottom! In the 5 days we have been waiting at the top we have been socialising with the other boaters and it was sad to say goodbye to Peter & Stephanie and Larry & Fiona.
Only two locks later, in the middle of the Seend flight , our throttle cable snapped. I'm used to this and always carry a spare. It seems to be a design fault with our 'Morse' control. We have got through 3 cables on 5 years. I got down into the engine 'ole and replaced the cable. Just as I was finishing off 'The Bath Tub' came down the lock above. Simon needed to go back to fetch his car, so Heddi steered their boat and I did JH through the next 3 locks whilst Karen and her freinds crewed. We moored up just below the bottom lock and socialised in the evening sun until it got too cold when we retired to our respective boats.